Day 2 :
Keynote Forum
Ghent University, Belgium
Time : 09:30-10:00

Biography:
W. VERSTRAETE was born on April 25, 1946 in Beernem (Belgium). He graduated in 1968 from the Gent University as bio-engineer. He followed a summer course on Soil Microbiology at the Pasteur Institute of Paris. In 1971, he obtained a Ph D degree in the field of microbiology at the Cornell University, Ithaca (USA).\\r\\nSince 1971, he worked at the Gent University, first as assistant and since 1979 as professor and head of the Laboratory of Microbial Ecology and Technology (LabMET - Faculty of Bioscience Engineering). Since October 2011, he has become emeritus professor.\\r\\nHis R&D has as central theme: Microbial Resource Management ; ie the design, operation and control of processes mediated by mixed microbial cultures. W. Verstraete has field experience with respect to drinking water production plants (slow sand filtration), aerobic wastewater treatment (in particular with respect to nitrification-denitrification), anaerobic digestion of wastewaters and sludges, solid state fermentation of organic residues and bioremediation processes of soils and sediments. He has also gained experience in various aspects of pre- and probiotics used in human and animal nutrition and in systems which simulate the latter .
Abstract:
Microbial ecologists have struggled for a long time with the concept of how to represent in a single comprehensive term the fact that micro-organisms apparently can grow and work together . Most often one has referred to \\\'mixed cultures \\\' respectively \\\'microbial associations or communities\\\' . In that respect , the word \\\'biofilm\\\' was indicative of living and working together in a structured way . Yet the term \\\'microbiome\\\' as coined for the first time in 2005 , was even more striking (Backhed et al. 2005) . Indeed , it provides a connation which does not relate to carrier or surface materials and thus can be applicable for bio-systems operational in full scale technical installations such as drinking water supply installations, used water treatment systems , air scrubbers , composting plants , various types of anaerobic digester systems , bio-electrochemical configurations , soil biotreatment installations . In all these technical systems , normally one has organized communities of microbes at work and they are present in the form of 3-dimensional coagulates, flocs, sludges, granules , deposits .. Also in various food treatment facilities and zootechnical and medical devices open to microbibal invasion , microbiomes are the central active principle .They bring forward changes in chemical or physical compostion . In addition , they are often highly desired because they exclude unwanted species and thus have a barrier function . For these technical systems , the concept of \\\'microbiome \\\' as the bio-catalytic actuator has been a breakthrough because it reflects both the microbes and the collective genomes which are interacting . Clearly, the technologist dealing with the design, the optimization , the operation and the control of technical microbial systems has at last a term which reflects the very nature of his/her attention ie the assemblage of micro-organisms operating as a complex self organizing system having a level of species stability and driving particular conservation and conversion processes under open and variable conditions .
Keynote Forum
The Weizmann Institute of Science, Israel
Time : 10:00-10:30

Biography:
Edward A Bayer is a Professor at the Weizmann Institute of Science, Rehovot, Israel. He is Co-Discoverer of the cellulosome concept and has founded, organized and chaired an ongoing Gordon Research Conference on this subject. Since 2008, he has been serving on the Scientific Advisory Board of the US-DOE BioEnergy Science Center (BESC). He is Editor-in-Chief of Biotechnology Advances, Section Editor for Biotechnology for Biofuels, and serves on the Editorial Board of several other journals, including Environmental Microbiology and Current Opinion in Biotechnology. He has authored over 380 articles and reviews, and is a Member of both the American and the European Academies of Microbiology.
Abstract:
The plant cell wall comprises a collection of natural polymers, which include numerous complex carbohydrates, e.g., cellulose, xylans, mannans, arabinans, etc., and the aromatic polymer lignin, of which cellulose is the most abundant. Cellulose is composed entirely of the simple sugar glucose linked in β(1→4) bonds to form the repeating unit, the disaccharide cellobiose, which is arranged into long linear chains. This arrangement affords near-perfect hydrogen bonding within and between neighboring chains, forming a crystalline-like material, whereby its glucose residues are "locked" in place, virtually inaccessible to the organisms in nature that would otherwise exploit the glucose as an excellent food source. Despite its recalcitrance, an ample corps of microorganisms (bacteria and fungi) can cope with decaying cellulosic matter, by virtue of the cellulolytic enzymes, the cellulases, that they produce. Aerobic fungi and bacteria tend to produce large amounts of cellulases and hemicellulases that together act synergistically in decomposition of the target polysaccharides to their component soluble sugars, as opposed to selected anaerobic bacteria that produce a multi-enzyme complex called the cellulosome. The cellulosome contains numerous cellulases, hemicellulases and related enzymes, attached to the bacterial cell surface, thus enabling efficient degradation of cellulosic substrates. Recent work has been centered on dismantling the cellulosome into its component parts and reassembling them into "designer cellulosomes" of precise content and configuration. This approach reveals insight into the rationale behind its catalytic efficiency, and the knowledge gained enable fabrication of more potent designer cellulosomes for conversion of plant-derived biomass into liquid biofuels.
Keynote Forum
Coburg University, Germany
Time : 10:30-11:00

Biography:
Matthias Noll received his Diploma from University of Kassel, Germany, 2001, Ph.D. degree from Philipps-University of Marburg, Germany 2004. He worked since 2001 at the Department of Biogeochemistry at the Max Planck Institute for Terrestrial Microbiology, Marburg as phD-student and thereafter as PostDoc. From 2005 to 2006 he was PostDoc at the Department of Environmental Microbiology of the Institute of Biogeochemistry and Pollutant dynamics at the Swiss Federal Institute of Technology (ETH Zurich), Switzerland. From 2007 to 2010 he was an independent Junior Researcher at the Department Biology in Materials Protection and Environmental Issues at the Federal Institute for Materials Research and Testing (BAM), Berlin, Germany. From August 2010 to March 2012 he was a Senior Researcher at the Department Hygiene and Microbiology at the Federal Institute for Risk Assessment (BfR), Berlin, Germany.

Since April 2012 he is a full professor at the University of Applied Science and Arts in Coburg and finished his habilitation at the Technical University of Berlin in June 2012. In September 2014 he is an assistant professor at the University of Bayreuth.
Currently Matthias Noll teaches microbiology, microbial ecology, molecular biology and general biology at University of Applied Science and Arts in Coburg and at the University of Bayreuth. His field of work comprehend biology, microbiology and molecular biology. Therefore he is dealing with the structure and function of complex microbial communities in various environments. His research is directed towards coupling microbial diversity to abiotic and biotic key factors such as temperature, spatial organization, metabolic microbial activity, gradients of oxygen and ions. He is expert in function-identity tools such as stable isotope probing to elucidate key-players in natural and anthropogenic environments.
Abstract:
The wood protection industry has refined their products from chrome-, copper-, and arsenate-based wood preservatives toward solely copper-based preservatives in combination with organic biocides. Environmental use of copper-based preservatives leads to an enrichment of copper tolerant microbial communities in respective soil environments. Such soil communities are overall able to decompose copper-based preserved wood over a long time period and thus leading to major damages in wooden stakes. To investigate the effect of wood preservatives on fungal and bacterial community structure and composition, five different vineyard and fruitgrowing soil environments were evaluated over time. In total, 440 soil samples (5 soil environments, 4 incubation times, 5 preservative treatments, 4 replicates, + 40 virulence controls) were collected across Germany and southern Europe and incubated in accelerated soil incubation studies. To test the efficacy of wood preservatives, wooden specimens were impregnated with water (A as reference) or different biocide-based preservation treatments (B=containing copper, triazoles and benzalkonium chloride; C=containing triazoles and benzalkonium chloride, encapsulated; D=containing triazoles and benzalkonium chloride, non-encapsulated; and E=containing copper). Samples were selected for next-generation sequencing and quantitative PCR by 16S rRNA and ITS gene region, respectively, based on mass loss and bending elasticity results. For all dominant taxa, the composition and diversity of fungal and bacterial communities were significantly environment specific and remained less affected by the wood preservative treatment and incubation time.\\\\r\\\\nSurprisingly, about 80 % and 30 % of the genera of the bacterial and fungal community, respectively, were phylogenetically similar but uneven distributed within the samples. The Shannon diversity index (H') over time was even distributed in the bacterial community and was not influenced by preservative treatments. In contrast, the corresponding H' of the fungal community shifted towards high abundances of Ascomycota Talaromyces in treatment E of northern and central Germany as well as in southern France. Members of the genus Talaromyces are known cellulose degrading organisms with potentially high tolerance towards copper. In conclusion, a decreasing fungal community composition over time indicates that few fungi were functionally superior in the main wood decay process.
Break:
@ Foyer Area 11:00-11:15
Track 2: Art of Manufacturing: Vaccines, Antibiotics, and Antimicrobials
Track 3: From Bench to Bedside: Medical Microbiology
Track 4: Billion-Dollar Science: Microbes in Food Industries
Track 10: Saving Lives: Modern Diagnostic Techniques
Track 13: Clinical Microbiology and Infectious Disease
Chair
Willy Verstraete
University of Ghent, Belgium
Co-Chair
Edward Bayer
The Weizmann Institute of Science, Israel
Session Introduction
University of Western Ontario, Canada
Time : 11:15-11:35

Biography:
Ze-Chun Yuan has completed his Ph.D from McMaster University in Canada and postdoctoral studies from University of Washington (Seattle, USA). He is a research professor at University of Western Ontario (Canada), and a principal investigator (research scientist) at Agriculture and Agri-Food Canada (London, Ontario). He has published several interesting papers in reputed journals and serving as routine reviewers for many important scientific journals.
Abstract:
Non-food biomass holds great promise as sources of clean and renewable fuels and chemicals. However, lignin depolymerization is the bottleneck for lignocellulosic biofuels and chemicals. Understanding the bacterial metabolic pathways and regulatory mechanisms underpinning lignin degradation is very important for developing cost effective techniques to revitalize the biorefinery industry. We recently isolated and characterized Paenibacillus polymyxa CR1 (Corn Rhizobacetrium) exhibited multifaceted plant-beneficial traits including phytohormone (indole-3-acetic acid) production, nitrogen fixation, and antagonistic activities against crop pathogens. P. polymyxa CR1 significantly promotes the growth of corn, potato, cucumber, tomato and Arabidopsis thaliana. P. polymyxa CR1 also demonstrated strong ability in degrading and utilizing lignin, cellulose and hemi-cellulose as sole source of carbon and produce valuable chemicals and fuels. In addition, P. polymyxa CR1 degrades saw dust directly and produces phenylacetic acid (also called benzeneacetic acid) which is widely used in perfumes, penicillin G production and other purposes. To facilitate understanding its metabolic pathways implicated in biomass degradation and bioproduction, we sequenced the complete genome of P. polymyxa CR1 (~6Mbs). We also compared the P. polymyxa CR1 genome with the other 3 P. polymyxa genomes fully sequenced. Our genomics and comparative genomics analysis revealed many conserved genes/functions relevant to antimicrobial production, biomass degradation and bioproduction, which lays a solid foundation for our future work, eg, using genetic and metabolic engineering to rewire bacterial metabolic flux networks and synthetic pathways for efficient conversion of lignocellulosic biomass (forestry and agricultural residues, municipal biosolids and wastes of paper industry) into value-added biofuels and chemicals.
Ghent University, Belgium
Time : 11:35-11:55

Biography:
Alberto Scoma obtained his PhD within a joint project between the CNR and Bologna University (Italy) in 2010 while working on the biophotolytic H2 production achieved with green microalgae. His work led to the fi rst solar-driven H2 production in these oxygenic microbes. During his fi rst postdoc, he focused on integrated, stand-alone 2nd generation biorefi neries working in Italy, Germany, Portugal and Hungary. He published 31 papers in 13 different domains in the fi eld of green- and bio-technology and served as Guest Editor in 3 reputed journals. He is now a postdoc at LabMET, Gent University (Belgium), where he is developing a research vision on marine biotech.
Abstract:
Microbial community shifts from an uncontaminated environment to an alkane-polluted one were investigated using deep-sea sediment from the West Iberian Margin. Samples were collected at 1 km water depth and supplied with long-chain aliphatic hydrocarbons. Because of their nature such hydrocarbons will hardly dissolveat ambient temperature and pressure, rather become emulsified and be dispersed as small droplets in the water column. Hence, their chances to reach the seafloor are higher with respect to gaseous or liquid short-chained ones and their supply will determine a more realistic piezophile-enriched microbial community. Deep-sea samples were incubated in the laboratory using either icosane (C20) or triacontane (C30) as unique carbon source, at3 hydrostatic pressures (HP) (1, 100 or 200bars). The latter were selected to separate piezotolerant bacteria (growing well at both 1 and 100bars) from piezophilicones (growing better at 100 and 200bars). Reactors were inoculated with the same microbial community collected at deep-sea and 9 consecutive incubationsof 10d each were conducted. At the end of any incubation, aliquots of growing bacterial cells were transferred to a new reactor (final enrichment, 90d). An effective microbial community shift was observed with both C20 and C30 (by DGGE and Illumina sequencing) being high HP a main driver for the final community structure. Both C20 and C30 were degraded, for pH values dropped constantly along the enrichment, values being 1<100<200 bars. Despite O2 respiration was always very high, SO42-concentration was not significantly lower than controls, meaning that reactors were maintained under aerobic conditions. A rather constant cell number increase during the enrichment was obtained with C20 (1>100>200 bars), while a profile it was less clear when using C30. In all reactors, we could observe cells smaller than 1.5 μm. Hydrophobicity, i.e., the capability by the cells to move towards oil droplets, was generally high with C20 and extremely low with C30. Water-soluble traces of C20 or C30 were detected (by GC-FID) in few cases and always at 200bars using C20. Irrespective of the carbon source, PO43- consumption increased as HP increased. Characterization of the lipid content of the enrichments and strain isolation procedures are underway.
University of Cagliari, Italy
Time : 11:55-12:15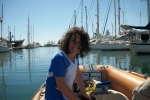 Biography:
Elena Tamburini has a PhD in Genetics at the University of Pavia with an experimental work on cellulolytic streptomycetes, carried out at the University of Florence. From 2006, she is Senior Researcher at the Department of Biomedical Sciences at the University of Cagliari. Her main research topics are microbial surfactants and emulsifiers for environmental applications, microbial communities involved in bioremediation and phytoremediation of hydrocarbons and heavy metals. She published 25 articles in international peer-reviewed journals and book chapters.
Abstract:
Marine legislation requires monitoring programs to assess ecological integrity and marine health status at different spatial and temporal scales. Bacteria are an important component of biota in marine environments where they play a fundamental role in element cycling and functioning of the ecosystems. In consideration of the fast growth rate and the consequently rapid responses, prokaryotic communities are suitable ecosystem component for the ecological quality assessment of the marine environment over very fine spatial and short temporal scales.
This study was carried out in the framework of the project MAPMED, a multidisciplinary project aimed at improving the environmental sustainability of tourist ports in the Mediterranean Sea by the optimization, validation and transfer of tools for monitoring and reduction of marine pollution. The present work was directed to define the structure and composition of the bacterioplankton community during a multidisciplinary physico-chemical and ecological monitoring of a field-scale demonstration of (bio)remediation technology in the water compartment at the tourist port of El Kantaoui (Tunisia). A bimonthly monitoring program was implemented over one year. The bacterioplankton communities is currently under characterization by Next Generation Sequencing with the MiSeq platform. The present study will define the seasonal variation as well as the effect of treatments on bacterioplankton communities.
Alexandria University, Egypt
Time : 12:15-12:35

Biography:
Mervat Kassem is currently working as Assistant Professor at Alexandria University, Egypt. She has published many articles. Her work is mainly based on biosurfectants.
Abstract:
With increasing environmental awareness and emphasis on a sustainable society in harmony with the global environment, biosurfactants are gaining prominence and have already taken over for a number of important industrial uses. They are produced by living organisms, for examples Pseudomonas aeruginosa which produces rhamnolipids, Candida (formerly Torulopsis) bombicola, which produces high yields of sophorolipids from vegetable oils and sugars and Bacillus subtilis which produces a lipopeptide called surfactin. The main goal of this work was to optimize biosurfactants production by an environmental Gram positive isolate for large scale production with maximum yield and low cost. After molecular characterization, phylogenetic tree was constructed where it was found to be B. subtilis, which close matches to B. subtilis subsp. subtilis strain CICC 10260. For optimizing its biosurfactants production, sequential statistical design using Plackett-Burman and response surface methodology, was applied where 11 variables were screened. When analyzing the regression coefficients for the 11 variables, pH, glucose, glycerol, yeast extract, ammonium chloride and ammonium nitrate were found to have a positive effect on the biosurfactants production. Ammonium nitrate, pH and glucose were further studied as significant independent variables for Box-Behnken design and their optimal levels were estimated and were found to be 7.328 pH value, 3 g% glucose and 0.21g % ammonium nitrate yielding high biosurfactants concentration that reduced the surface tension of the culture medium from 72 to 18.16 mN/m. Next, kinetics of cell growth and biosurfactants production by the tested B. subtilis isolate, in bioreactor was compared with that of shake flask where the maximum growth and specific growth (µ) in the bioreactor was higher by about 25 and 53%, respectively, than in shake flask experiment, while the biosurfactants production kinetics was almost the same in both shake flask and bioreactor experiments.
Port Said University, Egypt
Time : 12:35-12:55

Biography:
Mahmoud.M.M.Zaky has completed his Ph.D at the age of 36 years from Mansoura University and postdoctoral studies from Port-Said University Faculty of science. He is lecturer and consultant of microbiology ,Botany department,Faculty of science,Port Said University a He has published more than 13 papers in reputed journals and serving as a reviwer of many journals.
Abstract:
Lake Manzala is considered one of the most important Costal lakes, in the northern part of Egypt. It suffers from high load of pollutants from different sources such as sewage, industrial and agricultural wastes. In this study, physicochemical characterization of lake water revealed high level of pollution in different sampling sites such as, pH, T.S.S, T.D.S, ammonia, nitrates, sulfates, alkalinity, chlorides, calcium and magnesium. Bacterial count such as TVB and fecal coliform of water and fishes of the lake revealed high contamination in lake Manzala, a total of 90 isolates were identified and resulted in different bacterial pathogens such as, E coil, Proteus mirabilis, Sphomonas paucimobilis, Citrobacter freunii, Erwinia sp, Pasturella sp and Pseudomonas sp. Antibiogram was done for all isolates using eight antibiotics such as penicillin, ampicillin, cefotaxime, chloramphenicol, rifampcin, tetracycline, streptomycine and gentamicin. The result showed high resistant pattern among different species which are harboring plasmid DNA. This is an indication that these bacterial pathogens have risk factors on the communities around lake Manzala.
University of Uyo, Nigeria
Time : 12:55-13:15

Biography:
Alfred Y Itah did his BSc (Hons.) in Microbiology (1983), Calabar, Nigeria and PhD (1987) at Graduate School Board and Senate of the University of Calabar following his excellent performance in MSc course work examinations. He worked as a Professor of Environmental and Public Health Microbiology (2004); Head, Department of Microbiology (2001-2006). He was elected as Dean, Faculty of Science (2008-2010) and re-elected as Dean (UNOPPOSED, 2010-2012). He is a member of 10 learned societies including the Nigerian Society for Microbiology and American Board of Research Advisors. He has more than 51 scientific publications in reputable national and international journals with high impact factor. He is a Consultant Environmental and Public Health Microbiologist (Since 1998) and Litigation Expert Witness on crude oil pollution matters (Since 2000). He has attended more than 22 scientific conferences and is the Editorial Board Member and Editor-in-Chief to some reputable journals in Nigeria.
Abstract:
The microbiological, physico-chemical and heavy metal burden in fresh water and marine fishes were carried out using standard analytical procedures. Five fin and shell fishes were purchased from fishers at different fishing communities in Akwa Ibom State coastline, Niger Delta Area of Nigeria. Micro-organisms isolated included Chromobacterium violaceum, Salmonella enterica, Bacillus subtilis, Alcanivorax borkumensis, Micrococcus varians, Porticoccus hydrocarbonoclasticus, Marino bacter, Marino monas, Cladosporium resinae, Penicillium italicum, Saccharomyces estuari and Candida marina. The microbiological burdens were 4.9 (±0.02) x105 cfu/ml (fresh water), 6.4 (±0.03) x105 cfu/ml (marine water), 4.0(±0.01) x105 cfu/g (fresh water sediments) and 5.2 (±0.02)x105 cfu/g (marine sediments). Densities of heterotrophs in the fishes ranged from 7.0(±0.04)x105 to 7.8 (±0.03)x105cfu/g (intestine), 6.4(±0.02) x105 to 6.9 (±0.10)x105 cfu/g (gills) and 7.1 (±0.04)x105 to 7.8(±0.03) x105 cfu/g (skin) from fresh water fin fishes; 5.1 (±0.2)x105 to 5.9(±0.01)x105 cfu/g(intestine), 4.5 (±0.04)x105 to 4.9 (±0,04)x105cfu/g(gills) and 6.1 (±0.04)x105 to 6.9 (±0.02)x105cfu/g (skin) from fresh water shell fishes;7.5(±0.02)x105 to 8.6 (±0.05)x105 cfu/g (intestine), 7.1 (±0.03)x105 to 7.9(±0.04) x105 cfu/g (gills), 6.1(±0.03)x105 to 9.8 (±0.5)x105cfu/g (skin) from marine water fin fishes; 5.3 (±0.03)x105 to 6.1(±0.2)x105 cfu/g (intestine), 4.1(±0.04)x105 to 4.9 (±0.02)x105 cfu/g (gills) and 7.1(±0.03)x105 to 7.9(±0.05) x105 cfu/g (skin) from marine water shell fishes. Comparable trends in heavy metal concentrations were: FE>Cu>Al>Zn>Ni>Pb=Cd (fresh water sediments), Fe>Al>Ni>Pb>Cd>Cu>Zn (marine sediments), Cu>Fe>Zn>Al>Pb=Ni=Cd (fresh water) and Al>Fe>Ni>Cu>Zn>Pb>Cd (marine water). Although densities of hydrocarbonclastic micro-organisms 105cfu/g and above are considered significant, their presences in high numbers in fishes present some ecological advantage in the event of oil spill as they could metabolize and biodegrade the pollutants in fishes for their survival. Shell and fin fishes are promising candidates in bio-monitoring and as pollution indicators.
Break:
@ Foyer Area 13:15-14:00
North West University – Mafikeng Campus, South Africa
Time : 14:00-14:20

Biography:
Collins Njie Ateba has completed his PhD from the North West University - South Africa. Collins also received professional training in the Centre for Medical Genetics, Yerevan State University, Yerevan – Armenia in 2006; Department of Microbiology- Tartu University Tartu – Estonia in 2007 and the Lethbridge Research Station – Lethbridge Alberta, Canada in 2014. He is currently an Associate Professor in the Department of Biological Sciences, Microbiology Division, North West University –Mafikeng Campus and is head of the Water, Food Safety and Phage Therapy/Biocontrol Research Laboratory. Collins is actively involved in research training and lecturing at both undergraduate and postgraduate levels. He has been serving as a host mentor for the DST/NRF internship program from 2011 till date. He has published more than 30 papers in reputed journals and serving as an editorial board member of repute. Collins has presented research papers in a number of conferences locally and internationally.
Abstract:
A total of 67 isolates from groundwater were used to determine their susceptibilities against 7 antibiotics and the Multiple Antibiotic Resistance (MAR) patterns were compiled. Most isolates were resistant to amocyxillin, ampicillin, chloramphenicol and penicillin G. MAR phenotype A-AP-K-NE-OT-C-PG was dominant among isolates from Rustenburg. However, in Carltonville and Delaryville the phenotypes A-AP-C-PG and A-AP-OT-PG were obtained at 87.5% and 80%, respectively. The isolates were screened for the presence of shiga toxin genes by PCR analysis and none was positive. Moreover, when the E. coli O157:H7 isolates were subjected to antibiotic treatment for the induction of shiga toxins using both ampicillin and tetracycline in broth cultures, no shiga toxins were detected with an ELISA assay after 24 hours of incubation. However, after 72 hours of treatment with these antibiotics shiga toxins were detected in a large proportion (89.6%) of E. coli O157:H7 isolates with ampicillin when compared to tetracycline in which only one of the isolates produced shiga toxins. Tetracycline and ampicillin are readily available over the counter and is most often used in animal medicine. The consumption of these antibiotics when suffering from E. coli O157:H7 infections may worsen the complications.
University of Delhi, India
Time : 14:20-14:40

Biography:
Rup Lal is a Professor of Molecular Biology at the Department of Zoology, University of Delhi and currently, he is the Dean, Examinations. He is the recipient of Alexander von Humboldt Fellowship and the DBT Overseas Fellowship. He has over 30 years of research experience highlighting the aspects of the genetics of hexachlorocyclohexane (HCH) degradation, exploring microbial diversity, genetic manipulation of rifamycin producer Amycolatopsis mediterranei, microbial genome sequencing and metagenome analysis of stressed niches. He has a US patent to his credit for the development of cloning vectors of A. mediterranei strains. He has nearly 175 publications in peer-reviewed journals with 3197 ISI citations & h-index 30. He along with his collaborators developed a mutant of Amycolatopsis mediterranei that produces an analogue of rifamycin B. The derivatives of this analogue also known as 24-desmethyl rifampicin and 24- desmethylrifamycin S were found to be effective against MDR strains of Mycobacteria. He is the ASM Ambassador to the Indian Ocean Region. He is also a member of several national and international committees: was a member of the review committee for the ASM-IUSSTF Indo – US Professorship in Microbiology. He is also a Member of International Education Committee (IEC), American society for Microbiology. He is the Fellow of Indian Academy of Sciences, New Delhi (FNA), Fellow of National Academy of Sciences, India (FNASc), Fellow of National Academy of Agricultural Sciences (FNAAS) and the Fellow of Association of Microbiologists of India (FAMI).
Abstract:
Metagenomic diversity analysis across microbial mats deposited surrounding thermal discharges of Manikaran hot springs located atop the Himalayan ranges in Himachal Pradesh, India (with surface temp. >95 °C) highlighted the genetic predominance of novel Bdellovibrio bacteriovorus genotypes as the primary bacterial predator and Enterobacter cloacae as the eco-genetically adapted host. While B. bacteriovorus has been characterized from mesophilic environments (soil, marine and freshwater, etc.), these communities are not amenable to metagenomic re-assembly of predatory and prey genotypes due to high taxonomic diversity and community evenness. Here, we present the first metagenomic analysis of the microbial mats of an arsenic rich (140 ppb) hot spring in which these predator-prey genotypes were characterized. The microbial mats were enriched with Bdellovibrio and several gram-negative bacteria including Bordetella (16%), Enterobacter (6.8%), Burkholderia (4.8%), Acinetobacter (2.3%), and Yersinia (1%). A high quality (53 contigs, 25X coverage; 3.5 Mbp) draft genome of B. bacteriovorus (strain 'ArHS') was re-assembled, which lacked the marker gene bd0108 associated with the established method of prey interaction and invasion, while still maintaining genes coding for the hydrolytic enzymes necessary for prey assimilation. By filtering microbial mat samples (<0.45 μm) to enrich for small predatory cell sizes we observed Bdellovibrio-like cells attached side-on to E. coli. Furthermore, a draft pan-genome of the dominant host taxon, Enterobacter cloacae ArHS, (4.8 Mb), along with three of its viral genotypes (n=3; 42, 49 and 50 kb) were assembled. These data were used to construct a theoretical model describing potential predator avoidance strategies, whereby the E. cloacae strains can move between anaerobic and aerobic niches by quorum sensing population size, which is modulated by a 'kill-the-winner' viral mechanism, and predation by the obligate aerobe, B. bacteriovorus.
Break:
Young Researcher Forum
University of Leige, Belgium
Time : 14:40-14:55

Biography:
Marjolaine Martin started her education at Gembloux Agro-Bio Tech (University of Liège) in 2005. She ended her studies in 2010, with a 4 months stay in Bolivia where she realized a part of her master thesis regarding the prevalence of the Bovine Viral Diarrhea Virus in bovine and lamas farm. After graduation, she was immediately hired to start a PhD as a research and teaching assistant at the Microbiology and Genomics Unit of her university. Begin 2012, she realized a 7 months stay at the Biological Station of Roscoff (Britanny, France). There, she worked on the microflora associated with brown and red algae and get to know to work with this new environment. She presented her results at the National Symposium on Applied Biological Sciences (NSABS18 in Ghent (Belgium)), where she received the best oral presentation in the "Human health and Biotechnology" session. She published a review in Applied Microbiology and Biotechnology dealing with the diversity and the biotechnological potential of those communities. A second paper followed quickly concerning the identification and purification of an interesting cold adapted and halotolerantendo-glucanase in the prestigious American review of Applied and Environmental Microbiology. She is now, ending her PhD while working on cultivable microorganisms associated with the brown alga Ascophyllumnodosum and their biotechnological potential.
Abstract:
Bacteria associated with algae are underexplored despite their huge biodiversity and the fact that they differ markedly from those living freely in seawater. These bacterial communities are known to represent great potential for the production of diverse bioactive compounds, such as specific glycoside hydrolases, as they interact in multiple complex ways with their host. Furthermore, enzymes from marine bacteria have original properties, like cold-adapted, halotolerant and highly stable, which are constantly searched out by bio-industries.The aim of our study was to identify bacteria, associated with the brown alga Ascophyllum nodosum, showing diverse polysaccharolytic activities. To isolate cultivable microorganisms, algal thalli of Ascophyllum nodosum were swabbed with sterile cotton tips and marine agar plates were inoculated. Three-hundred isolated bacteria were screened for agarase, kappa-and iota-carrageenase, and sulfatase activities on specific marine media. Thirty-two bacteria with polysaccharolyticactivitieswere isolated and a part of their 16S rDNA (8F-1492R) were amplified and sequenced. Twenty-seven were classified as Flavobacteriia and five as Gamma proteobacteria. Putative new strains and species of Zobellia, Maribacter, Cellulophaga, Shewanella, Glaciecola, Pseudoalteromonas and Colwellia were identified by phylogenetic analysis. All those genera are well-known to colonize algal surface but only some of them are famousto degrade algal polysaccharides (Zobellia, Maribacter, Cellulophaga, and Pseudoalteromonas). However, all those novel bacterial strains/species showed multiple and diverse enzymatic activities (agarase, iota-and kappa-carrageenase, cellulase, beta-glucosidase, sulfatase and/or amylase activities). Genomics libraries with their DNA were constructed in Escherichia coli and Bacillus subtilis and are screened to identify the genes coding for the observed enzymatic activities. Those novel glycoside hydrolases from unknown marine bacteria should have original and innovative properties with great biotechnological potential.
Weizmann Institute of Science, Israel
Time : 14:55-15:10

Biography:
Lior Artzi is a direct-track PhD student at the Weizmann Institute of Science in Rehovot Israel. Her work focuses on the Gram-positive, cellulolytic, thermophilic bacterium, Clostridium clariflavum, which produces the most intricate cellulosomal system yet described. This year, she has presented an invited lecture at an international conference in the Dead Sea and is scheduled to present her work at a Gordon Research Conference and at International Congress and Expo on Biofuels & Bioenergy this summer.
Abstract:
Clostridium clariflavum is an anaerobic, cellulosome-forming thermophile, containing in its genome, a large number of cellulosomal enzymes and a complex scaffolding system. The major cohesin-dockerin interactions of the cellulosome components were characterized, and on this basis a model of diverse cellulosome assemblies was derived. Further on, we cultivated C. clariflavum on cellobiose-, microcrystalline cellulose- and switchgrass-containing media, and isolated cell-free cellulosome complexes from each culture. Gel-filtration separation of the cellulosome samples revealed two major fractions, which were analyzed by label-free LC-MS/MS in order to identify the key players of the cellulosome assemblies therein. From the 13 scaffoldins present in C. clariflavum genome, 11 were identified, and a variety of enzymes from different glycoside hydrolase and carbohydrate esterase families were identified, including glycoside hydrolase families GH48, GH9, GH5, GH30, GH11 and GH10. The expression level of the cellulosomal proteins varied as a function of the carbon source used for cultivation of the bacterium. In addition, the catalytic activity of each cellulosome was examined on different cellulosic substrates, xylan and switchgrass. The cellulosome isolated from the microcrystalline cellulose-containing medium was the most active of all the cellulosomes that were tested. The results suggest that the expression of the cellulosome proteins is regulated by the type of substrate in the growth medium. Moreover, both cell-free and cell-bound cellulosome complexes were produced which can together degrade the substrate in a synergistic manner. These observations are compatible with our proposed model of cellulosome assemblies based on in-vitro cohesin-dockerin interactions studies in this bacterium.
Break:
@ Foyer Area 15:10-15:25 End of Day 2 Speaker Sessions